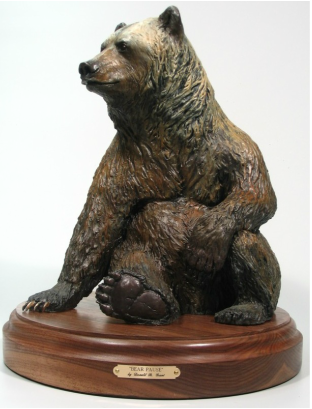 ​" Bear Pause" is a 14" bronze created by Don. This year he decided to makle a larger version of the bronze.
​It all started by taking the smaller version to Loveland ,CO to have it pointed up (enlarged).
They laser scanned the original. Then enlarged it and and cut it out of a large block of blue foam.
​The now four foot high big blue bear was shipped to Don in quite a large box.
​After it found a home in his studio, the work of putting brown clay over the blue foam started.
​When it is covered in clay and the detailing is done, the sculpture will go to the foundry to become a bronze.
Arrived at the foundry in Sept 2017 for molds and casting.
​Ten individual castings were then welded together to make Bear Pause.
Next comes the patina, from cold to hot.
​Final lacquer and wax finish applied, then "Bear Pause" is ready for the debut.
​The finished bear is 4' tall, the base is 45", and the weight is 250lbs.
​The edition is five. Contact artist for further information.